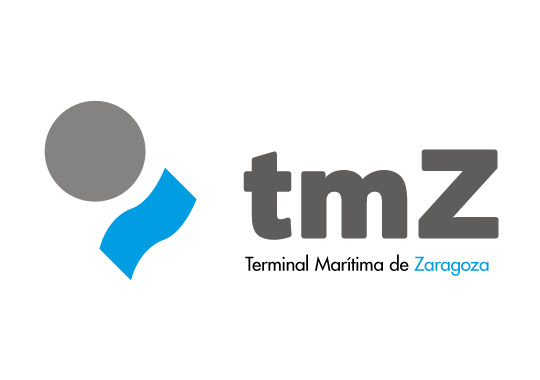 Intermodal logistics hub in southern Europe
The Zaragoza Maritime Terminal began operations in 2001. It was promoted by Mercazaragoza and the Port of Barcelona with the goal of promoting imports and exports from Aragón and all its area of influence. With its own rail facilities, today it is a top-level logistics hub on Spain's national scene and works towards optimising intermodal cargo traffic.
TMZ has a permanent connection with the main ports run by the State. The platform currently has four weekly routes to Bilbao, plus another which links Bilbao/Zaragoza/Valencia and 25 weekly connections with the Port of Barcelona, an organisation which is also a strategic partner of the project.
It has been put in place inside the Logistics Activity Area of Mercazaragoza, the food and agriculture logistics platform of Valle del Ebro, close to strategic points in its area of influence. It also possesses a rail connection to the national network, a direct link to the Vascoaragonesa motorway, the Madrid-Zaragoza dual carriageway, and, as a result, to the road network that links Zaragoza with the rest of the Peninsula.
Services:
General loading from and to all ports: TnZ Services is the operator of the Zaragoza Maritime Terminal, which manages its activities, the container depot and logistic services.
Container logistics: storage of both full and empty containers. Handling and cleaning services. Direct connection with logistic operators and customers.
Logistics of cold goods:logistics of containers with temperature control. The platform has 60 plugs for reefer containers.
Loading logistics: mainly consolidation and de-consolidation, along with other value added services for customers, like sorting and palletizing.
Transport services: to facilitate and manage transport from the facilities to the requested destination.
Customs service: to enable customers to save time and reduce administrative tasks at the port. ADT and DA in the process of becoming an OEA.
Infrastructures:
Over 100,000 square metres of land with option to extend.
65,000 square metres form part of the Container Depot, with a capacity to store over 1,500 containers.
More than 20,000 square metres of available logistic land available, that can be extended by 90,000 square metres.
Connection for 60 reefer plugs, so that goods can be transported with temperature control.
CONTACT INFORMATION
Mercazaragoza
Carretera de Cogullada nº65
50014, Zaragoza
Telephone: 976 47 96 58
E-mail: tmzaragoza@tmzaragoza.com